Mobile Advertising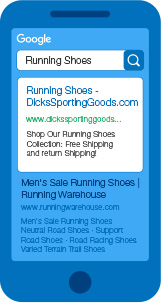 Mobile advertising allows You connecting Your clients right on the move. Mobile ads are shown in search results, content websites and in applications. Use Mobile ads and your product or service will be in front of people while they are using their phones and tablets.
Would Mobile Ads suit Your Business?
Mobile advertising is the right strategy for suitable business. Today people are using their tablets and smartphones to find the right product more than ever before, so the possibilities of Mobile Advertising strategy cannot be ignored. Businesses are very different and each of them needs its own unique mobile ad strategy to ensure maximum ROI from mobile ads.
Is Outsearching working with Mobile Ads?
As long as Mobile advertising is a very complex tool, there are many aspects to be considered when choosing the best way to use mobile ads – search, content, in-app ads… Outsearching will analyze Your business, specific goals and available resources to draw-up the cogent mobile advertising plan. There are lots of variations and options and we will choose the best one for Your business, to achieve highest returns from Your mobile advertising investments. Please contact us to make sure that the best mobile targeting strategy is working for You.